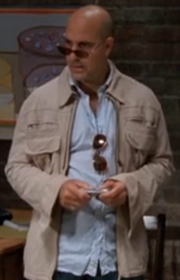 David Ruskin
is an actor who makes his appearance in the episode "
Mr. Monk and the Actor
". He gets deeply involved in whatever person he is acting as, at one point having to check in to rehab for three months (as stated by
Natalie Teeger
).
Biography
Edit
In the episode "Mr. Monk and the Actor", he is given the role of Adrian Monk when acting in a film based off of an event in another Monk episode. Eventually he himself believes he is Monk (going to the lengths of wearing an outfit just like Monk's and sporting the same hairstyle), and starts looking for Trudy Monk's killer. After stealing Adrian's gun, he holds a man at gunpoint, whom he (mistakenly) believes is Trudy's killer. Eventually Monk arrives, and a struggle ensues after a debate with a peeling-off sticker. After some struggling, Monk convinces David to let the gun down, and that this isn't what Trudy would want. It is unknown what happens after this.
Ad blocker interference detected!
Wikia is a free-to-use site that makes money from advertising. We have a modified experience for viewers using ad blockers

Wikia is not accessible if you've made further modifications. Remove the custom ad blocker rule(s) and the page will load as expected.